Program Description
The SF State doctoral program in Educational Leadership focuses on transformative leadership, social justice, and equity. Learn more about how we incorporate that into classroom and research work.
The SF State University program is distinguished by: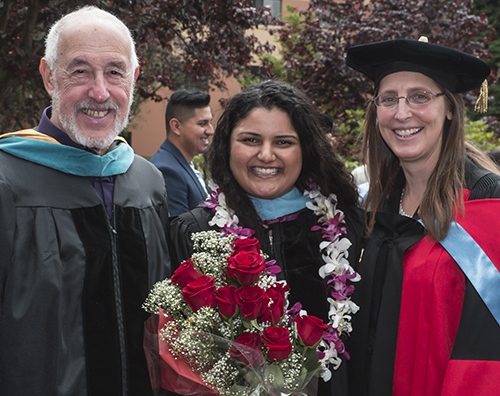 Our Mission
Preparing educational leaders who envision and lead social justice reform for California public education from early childhood through community college.
Our Vision
This applied doctoral program prepares educational leaders who will work in California public school settings including early childhood sites, elementary, middle, and high schools, and our community college system. The program strives to prepare a new generation of educational leaders who reflect the vast diversity of our state, and to that end, we honor the cultural and personal knowledge, as well as the resiliency that our students bring.
Our goal is to prepare leaders who can enhance development, learning, and academic achievement for all students. We prepare leaders who will work in our local communities to equalize student access to the cultural capital that a rigorous education based on open-minded inquiry and reflection can provide. San Francisco State University's Ed.D. program is centered on issues of leadership, equity, and social justice and strives to use curricular materials and instructional methods that embrace this courageous approach. Our doctoral faculty are a multi-disciplinary group who are conducting research and taking practical action as public intellectuals around these same issues of social justice in education.
A distinctive aspect of our program is how the doctoral faculty conceptualize the dissertation as a problem of practice, a form of research most applicable for students earning an Ed.D. Specifically, we support our doctoral students to undertake practical and applied research including: evaluation projects, practitioner research, participant action research, self-studies, and non-traditional research forms, such as narrative inquiry, autoethnography, as well as other research genres that involve artistic or creative expression.
Regardless of form, the overarching goal for our graduates' culminating research projects is that these original inquiry projects will make a positive difference in the educational opportunities California provides for all of its people. These culminating projects should also demonstrate the potential to create broader ripples of influence, as our graduates take on increasingly significant leadership roles in educational institutions and community organizations.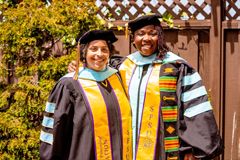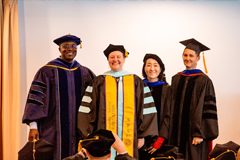 Transformative Leadership