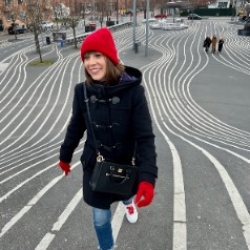 Cathy Aragon
Cathy Aragon has a passion for creating engaging and equitable learning opportunities for students and adults. She has worked in education for eighteen years in both private and public schools in San Francisco and most recently at the nonprofit California Teacher Development Collaborative (CATDC) where she served as the Northern California Director and Managing Director of Programs. Before joining CATDC, she worked at San Francisco Day School as a second-grade teacher and Universal Design for Learning (UDL) instructional coach. She is excited to return to the classroom, joining the San Francisco Friends School community as a second grade teacher in the fall of 2022. 
Cathy received her multiple subject credential from the Bay Area Teacher Training Institute in conjunction with San Francisco State University and holds a BA in History from Harvard University. This spring she completed her Master's of Arts in Education with a special concentration on Equity and Social Justice from San Francisco State University.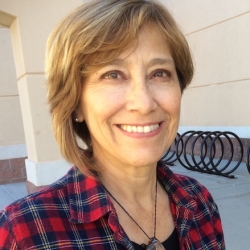 Ana Lourdes Cardenas
Ana Lourdes Cárdenas is a journalism assistant professor at San Francisco State University. She has been a reporter, editor, and producer for American and Mexican media. She has a master's degree in International Journalism from USC and a Master of Fine Arts in Creative Writing from UTEP. She is behind the creation of the SF State first Bilingual Journalism bachelor's degree in a public university in the United States. As a Mexican, she is excited to contribute to the education of the younger generation of bilingual journalists in the US.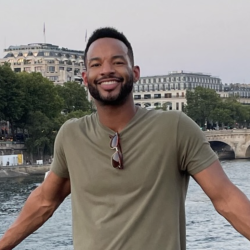 Omar Currie
Omar Currie (he/him/his) is a proud queer leader of color with a diverse portfolio of leadership experience that expands across traditional public, charter, and international schools. He currently serves as the principal of Cox Academy, a TK-5 public elementary school in East Oakland.
He began his career teaching third grade in rural North Carolina and then taught fourth grade in the largest elementary schools in the Metropolitan Washington, DC area. After moving to California, Omar was the Lower School Assistant Principal at KIPP San Francisco Bay Academy before opening two high-performing schools with Rocketship Public Schools, first as an assistant principal and then as the founding principal of Rocketship Delta Prep in Antioch, CA.
Before accepting his current position, Omar spent a year living and teaching aboard in Mexico City, Mexico. Throughout his career, he has served as grade level chair, a middle school girls' basketball coach, on the Superintendent's Teacher Advisory Council for Orange County Schools (NC), and as an advisor to the Chief Academic Officer of Alexandria City Public Schools (VA). 
Access, equity, and high academic standards in the classroom have been Omar's guiding light throughout his career. In 2015, he was recognized by GLSEN and awarded the InsideOut Advocate of the Year for his work addressing bullying and harassment in his school.
A first-generation college graduate, Omar holds a master's degree in Education Leadership and Supervision from Indiana University, Bloomington. He completed his undergraduate studies in Elementary Education at The University of North Carolina at Chapel Hill as a North Carolina Teaching Fellow. A huge college sports fan, in his free time, he enjoys watching college sports, dancing, and traveling to experience new cultures.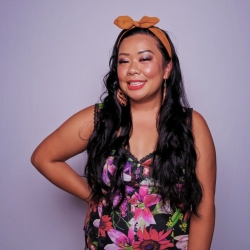 Valerie Petrache Fernandez
Valerie Petrache Fernandez (she/her/siya) is a community-engaged teacher activist that has served the South of Market (SoMa) and Excelsior neighborhoods of San Francisco for more than 16 years. Rooted in her belief that someone shouldn't have to wait until college to experience the transformative power of Ethnic Studies,  Valerie's educator training began as a teacher and coordinator for Pin@y Educational Partnerships (PEP), where she was able to  identify the classroom as a space where she could fight for change within her community. Valerie served as a classroom teacher in San Francisco Unified School District for 7 years, teaching both Kindergarten and 5th Grade. In 2019, when a wave of teacher strikes hit California, she utilized her network of teachers from PEP and Kababayan: SFUSD to feed educators on strike across 3 different school districts. She has taught as a lecturer at the University of San Francisco in the Teacher Education Department and at San Francisco State University in the Asian American Studies (AAS) Department. This fall she will be teaching AAS 106: Asian American Activism. 
The daughter of Filipino immigrants from the province of Bicol, Valerie holds a Bachelors degree in International Studies with Concentrations in International Economics, Asian and Philippine Studies as well as a Masters degree in Teaching with a focus in Urban Education & Social Justice. She is a double Doña–having earned both degrees at the University of San Francisco. Her research interests include advocating around the issues of mental health and teachers leaving the classroom. In her free time, Valerie enjoys experiencing and documenting the intersections of the Filipino diaspora, art, food, fashion, culture, and music.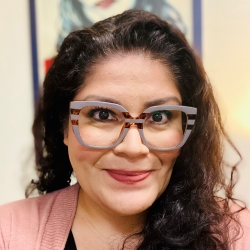 Minerva Flores
Minerva is the Director of Institutional Effectiveness, Research, Equity and Grants at Mendocino College and has worked at the college for over 15 years. Prior to working in Research Minerva worked with federal grant programs that focused on migrant and seasonal farm working students and adults (College Assistance Migrant Program and High School Equivalency Program) at the community college and university level. She has also worked with the Center for Urban Education in the design and analysis of California Community College Equity Plans, as well as with the RP Group (Research, Planning, Professional Development for California Community Colleges) on equity based participatory governance in constituent groups.
She also works with HSI initiatives at other community colleges in and outside of California, focusing on grant design and assessment. Minerva has designed and written grants for state, federal and international competitions. She has designed and launched equity based dashboards for student outreach, retention, persistence and course scheduling. In her current capacity, she designs and facilities equity based professional development for faculty and classified staff. She has participated as a resource member for the IEPI (Institutional Effectiveness Partnership Initiative) through the California Community Colleges Chancellor's Office and participates in various college and community committees.
Raised in the small town of Geyserville, California, Minerva earned her undergraduate degrees in International Relations and Spanish, with a Master's in Education – Curriculum, Teaching and Learning.  She is a proud mom of 2 children, 10 and 12.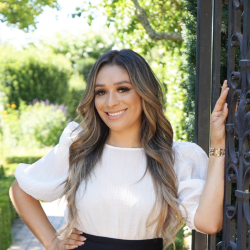 Jackie Flores
Jackie Flores is the Division Assistant in the Counseling Department at Skyline College since 2016. In the Counseling Department, she brings a combination of professional experience including administrative duties, program development and oversight, and direct student service.
Jackie is a first-generation college student raised in Redwood City, California. She attended San Jose State University, earning her Bachelor of Science in Justice Studies. At San Francisco State University, she earned her Master of Arts in Education Equity and Social Justice.
While working at Skyline College, Jackie has observed the need to advocate for student support to bridge the gaps in education for all students. Jackie's purpose as an educator is to make a difference in her community and create a sense of urgency for student success.
As a daughter of Mexican immigrants, she is honored to pave the way as a doctoral candidate for her family, ancestors, and students she serves daily.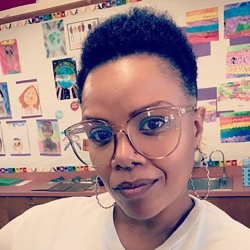 LaRae Gainey
LaRae is currently a 2nd grade teacher for the Sausalito Marin City School District. They are a proud, Black and Queer wife and mother, who has worked in the education field for over 10 years. LaRae is part of the School Culture & Climate Team at their school. This team has a special emphasis on (PBIS)  positive behavioral interventions and supports. 
LaRae's professional focus has been on building safe and inclusive classroom environments, promoting mental health and wellness, and promoting culturally relevant pedagogy for marginalized students of color- with a special focus on queer students of color. They like to focus on the question- how are we making, and building educational spaces that are safe for ALL? This focus has been a major area of study and research for them, and in 2021 they finished their Master of Arts in Teaching with their research paper, "Culturally Responsive Teaching & Culturally Relevant Pedagogy: Measuring its Impact in African American Student Achievement."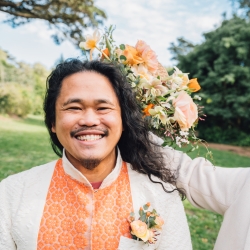 Alvin Gubatina
Alvin Macaldo-Gubatina is a product of ethnic studies, a critical community leader, and a dedicated student to the communities he serves. Alvin is an Aklanon born, San Franciscan raised educator based in the Bay Area, and current doctorate candidate in the Ed.D. Educational Leadership program at San Francisco State University (SFSU). He has earned his Bachelor's of Communication Studies from SFSU and Master's of Counseling Psychology from the University of San Francisco (USF). Alvin has over a decade of experience working in every level of education from elementary to college; working as a teacher, counselor, and administrator. Most recently, Alvin has earned a certification as a certified professional coach from the Blooming Willow Coaching program specializing in healing centered coaching. His coaching offerings include workshop facilitation, individual and small group coaching sessions. Outside of the education and coaching space, Alvin is a foodie and food historian; visiting different places to learn about its history through food. He also hosts different podcasts; offering his knowledge and experience to others with the hope that it can support the growth of others.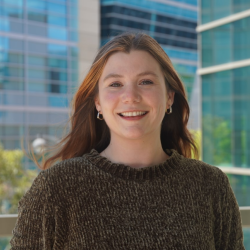 Emma Gunderson
Emma Gunderson is an Administrative Officer in the Department of Pharmaceutical Chemistry at UCSF. She joined UCSF's Pharm Chem department as a basic science researcher in 2016, after her Master's in Global health where she studied neglected tropical diseases. In 2020, Emma joined the department's administrative staff, and in partnership with graduate student leaders in BE-STEM (Black Excellence in Science, Technology, Engineering, and Math), founded the Bay Area Youth Science Program (BAYS Program) for high school students in Bayview Hunters-Point. The BAYS Program seeks to build infrastructure to welcome, celebrate, and develop historically excluded groups by building a pipeline from secondary school to PhD/Professional degrees. The BAYS Program is a longitudinal investment in the next generation of scientists that begins with a weekly seminar series by UCSF professors. Students then apply for an 8-week, paid summer internship where they conduct research in UCSF labs. The summer internship is followed by an intensive bootcamp to facilitate BAYS scholars college applications. Emma's research interests center around program evaluation for equitable outreach, as well as the implementation of policies and structures for transformative change and leadership in graduate and professional education. In her free time, Emma enjoys being in nature, spending time with friends, and traveling.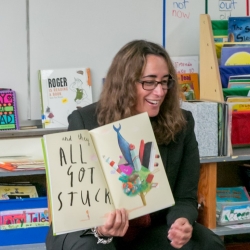 Maite Iturri
Maite Iturri's career in education began after many years in the family restaurant located in North Beach in San Francisco. Iturri was raised in San Francisco in a bilingual and bicultural home. Her father was an immigrant from Spain; he was exiled to Norway in the 1950s after his political actions caught the attention of the Spanish government.  His life greatly influenced her career choice, advocacy, and volunteer opportunities. Iturri calls on her Basque heritage often in her work with families and community members. 
Iturri attended Lowell High School, San Francisco City College, University of California Berkeley, Sonoma State and she is currently working on her Educational Doctorate at San Francisco State University. Her undergraduate work focused on Mexican-American studies and Latin American history. Her master's work examined parent participation in the Latino community. At present, her work includes a study of crisis and change leadership. Another area of study is the role of community organizations and non-profit support of local schools. The focus in all of these areas is the role that leadership plays in creating change. 
For fifteen years Iturri served as principal of El Verano Elementary School in Sonoma and had the privilege of working with the families and community that surround El Verano. In 2014 El Verano School transitioned to a community school model where a partnership with families and community members was established to set a vision for the school and community. A series of town hall meetings that included families, community, and staff identified areas of interest and set the path forward for the school.  
Some of the accomplishments Iturri is most proud of include the development of parent leadership and investing in staff to be excellent teachers of literacy. Parents, staff, and community members worked collaboratively to help guide the direction of the school. The collective work of the community led to several school-wide projects including garden development, event production, classroom volunteers, university visits, parent parent-led classes such as Zumba, basketball, and art. The school was the hub of community activity. Ballet Folklorico Quetzalen and Valley Vibes Orchestra started at El Verano to maintain culture and arts education for students. In addition, El Verano opened the first district preschool in 2008 and a Family Resource Center in 2014 which focused on supporting mental health for families and students. All of these programs and strategies supported families and staff in the pursuit of academic achievement for El Verano students.  
In March 2020, Iturri and El Verano parent leaders began Food for All/Comida para Todos in response to the pandemic and food and health insecurities. The team has delivered food to over 250 families a month since March 2020. FFA is a grassroots mutual aid leadership model where community members support their neighbors and community. She joined the Catalyst team in 2020 to help change philanthropy and fund innovation during a difficult time in Sonoma Valley. In addition, Iturri serves as the chair of the Springs Municipal Advisory Council. The SMAC represents the interests of the entire community while acting as a bridge for communication between Sonoma County, local residents, and businesses on topics for the Springs Area. 
Iturri served as Assistant Superintendent of Student Services in Petaluma City Schools. Her work includes providing support to K-12 schools in the areas of mental and physical health. Her current initiatives include training staff in restorative practices and supporting the mental health of students.  Her role includes ensuring that equity is at the forefront of decision-making for the community.  
Currently, Iturri serves as Superintendent of Cotati-Rohnert Park Unified School District.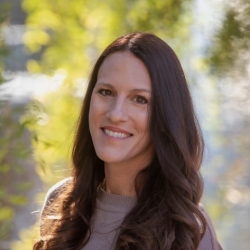 Tara Jacobson
Tara teaches full-time at Santa Rosa Junior College and has a BS in Kinesiology and MS in Exercise Physiology. She developed and now coordinates three Career Education certificates in Fitness, Yoga, and Pilates Instructor Training. These programs provide high quality, accessible, and affordable training opportunities for students with hands-on practical experience and strong connections for internships, mentorships, and employment opportunities in the community.
Tara has taken on various leadership roles in her 20 years in education, including as an Interim Dean of Instruction and Enrollment Management, Faculty Professional Development Coordinator, Academic Senate Representative and Vice-President, Executive Board member for the statewide California Community College Physical Education, Kinesiology, and Dance Association, and Department Chair for the Kinesiology, Athletics, and Dance Department at SRJC.
Tara is constantly striving to learn and improve her teaching, her students' experience, her discipline knowledge, and curricular offerings. She truly gives her best effort to implement what she learns to create a more equitable learning environment for her students. As a champion of diversity, equity, inclusion, and anti-racism, she regularly participates in DEIA trainings, chairs her department DEIA committee, participates in the Lanzamiento Initiative through an HSI grant, which supports academic achievement among Latinx and first-generation college students, and has played a role in the Guided Pathways initiative. Tara has been inspired by learning and teaching in a variety of modalities beyond traditional face-to-face instruction, including fully online, hybrid, dual modality, and hyflex (hybrid flexible) modes of instruction to meet student needs and provide flexibility for students to help support student access, success, and retention.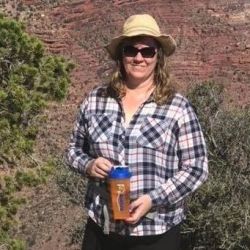 Bridget James
Bridget is currently a full-time lecturer in the Earth & Climate Sciences Department at San Francisco State University, where she has been teaching upper and lower division courses in Geology, Oceanography and Meteorology since January 2004. She is also part-time faculty for the San Mateo and Foothill-De Anza Community College Districts, where she has taught courses in the Earth Sciences since 2001.
Bridget is a first-generation college graduate. She holds a A.S. in General Studies Science from Foothill College, a B.S. in Earth Sciences from the University of California at Santa Cruz, and a M.S. in Geology from San José State University. Her master's thesis titled "Plio-Pleistocene Deformation at Alvord Mountain Central Mojave Desert, California" involved geologic mapping and interpretation of Plio-Pleistocene deformation patterns caused by movement along the Pacific-North American Plate Boundary. This work was done to add to the understanding of the complex deformational history at and near the southern segment of the San Andreas fault.
Her current interests are in Geoscience Education. Between 2015-2021, Bridget worked as a change agent in the SF Bay Area and then as a peer leader nationally as a part of the "Supporting and Advancing Geoscience Education at Two-Year Colleges" (SAGE 2YC) project, where she led and co-led workshops and other events to improve STEM learning, broaden participation, and help create a more robust and inclusive STEM workforce. In 2020, Bridget was a participant in the nationwide "Unlearning Racism in Geoscience" (URGE) project, where she worked with colleagues and graduate students from COSE at SFSU to help design and implement anti-racism practices and policies for the college. In June 2022, Bridget was selected to be a participant in the American Geophysical Union Chapman Conference in Washington D.C. titled: "The Second National Conference: Justice in Geoscience" (the first conference happened in 1972), where she is working with other geoscientists this Summer to plan, write and publish the 2072 Report. This report will be a roadmap that scholars and community members can use to advance DEI in geosciences for the next 50 years. Bridget is also an active member of the National Association of Geoscience Teachers (NAGT), where she is a current board member in the Geo2YC division, and where she has led past workshops and reading groups in geoscience education, including DEI focused events.
Bridget is excited to begin doctoral work alongside her cohort to continue to advance her goals of creating a more equitable and inclusive geosciences. During her personal time, Bridget enjoys reading, hiking, camping and spending quality time with her husband Mike, her three cats Mischief, Mayhem and Trouble and her two dogs, Jake and Rusty.
Taralynn Kantor
Taralynn Kantor is vested and invested in the public school system where she endeavors to expand her civil servant leadership abilities. Born in San Francisco, she was raised and continues to reside in Oakland. She holds a bachelor's degree in English from California State University, Chico; a CLEAR Multiple Subject Teaching Credential from CalStateTEACH; and a master's degree in Education from San Diego State University. 
Her teaching career with Oakland Unified School District began in 2001 where she served as a teacher in a dual language program and later as an English Language Development content coach. Currently, Ms. Kantor teaches structured English immersion at a California Distinguished School.
Taralynn offers a wide range of experiences in the field of education. She integrates social emotional learning strategies, mindfulness techniques, and differentiated instruction in order to support academic development, equitable outcomes, and student success. Additionally, she brings project management and research skills from Stanford University, Kettering Foundation, Berkeley Policy Associates, Harvard University, and Mills College.
At her core, Taralynn is an enthusiastic life-long learner. She looks forward to the challenge and inspiration of the  doctoral program.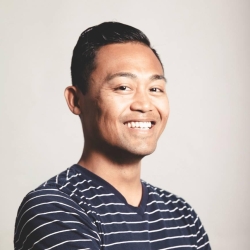 Alvin Mangosing
Alvin Navarro Mangosing (he/him/his) currently serves as the Assistant Director for Residential Education and First-Year Experience at San Francisco State University.  As an immigrant first-generation Filipinx student, he holds a Bachelor's Degree in Human Development and a minor in Education from the University of California Davis, in addition to a Master's degree from the University of San Francisco's Organization and Leadership program.
Alvin spent 15yrs working in Student Life at Jesuit Institutions across the country (San Francisco, Seattle, and Chicago) and internationally (Rome, Italy). As a queer Catholic of color who has had to navigate the intersections of his own race, gender, sexual orientation and faith identities throughout college, Alvin's research hopes to explore and provide queer/trans* students of color from Jesuit/faith-based institutions a platform to share their journeys and experiences.
When not focused on work or school, Alvin enjoys exploring San Francisco with his nephews, coaching the Berkeley Rhinos high school rugby team, traveling internationally, and spending time outdoors with his three-legged rescue dog, Ms Mabel.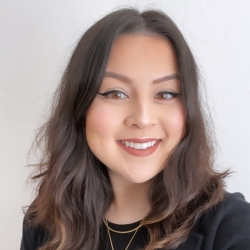 Sara Marcopulos
Sara was born and raised in San Francisco, is a product of San Francisco Unified School District, and has attended San Francisco schools all her life. Her initial plan was to earn a Master's in Physics after obtaining her Bachelor's in Physics and work for an engineering company or space program. However, she discovered her passion for teaching and learning and pivoted her career path towards education. Sara earned her Master's in Elementary Education and Multiple Subject Teaching Credential from San Francisco State University. 
Sara taught at Gateway Middle School for a number of years as a Math Interventionist and 6th Grade Math/Science teacher before transitioning full-time to Breakthrough San Francisco, an education non-profit that serves as a college access program to historically marginalized communities in San Francisco and teacher preparation program for college undergraduates all over the country. As Breakthrough San Francisco's Director of Curriculum and Instruction, Sara works closely with Teaching Fellows and designs workshops and curricula that incorporates social justice and DEI. She is passionate about dismantling the inequities within the education system and feels empowered working with like-minded people to ensure that our future generations receive a quality and fair education. Her interests include reviewing curricula with an anti-racist and culturally relevant lens and participating in identity work to discover how our unique multi-faceted identities and experiences impact our classroom and students.
When not working, Sara enjoys spending time with her cats and partner, reading, and watching Bay Area sports. She is an avid organizer and always has at least two organization projects set up around her home. She is looking forward to being a part of SFSU's Educational Leadership 2022 Cohort.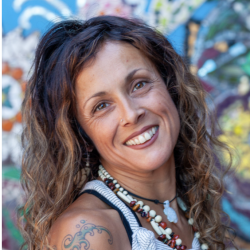 Gigi Munoz
Gigi Munoz a bilingual, Spanish-speaking San Francisco native who began her journey in Early Education at a Cooperative preschool in the Mission District in 2013.  Prior to 2013, her focus was in Buisness Management with management experience since 2000. Gigi is currently the Lead of Early Practice with Jumpstart at San Franciso State University. It was through her goal of obtaining her Bachelor's degree in Child Adolescent and Development and a minor in Special Education, that she gained this opportunity and continued her educational journey with SFSU by obtaining her Masters in Early Education this past Spring semester of 2022, and now continuing into the Educational Leadership doctoral program. 
Her approach to education is through a social justice lens, and exploration of creativity and agency. She believes and  encourages the children and people who work with the children, to  their voices as individuals. I am enthusiastic about the philosophy of play, representing diversity,, transparency teaching to children, and having her education experience for all students be centered around community through an anti-bias and culturally responsive practice. 
Gigi is involved actively in communities of dance for a number of years. She is often found in classes of Afro-Brazilain in the Mission. She is actively involved in Capoieria which is a Brazilian martial art. She also has been dancing aztec dancing for more than 10 years. Aztec dancing is her prayer. She takes pride in her culture and respects the indigenious ways and honors the practices and beliefs that once or are still here by the first nation peoples.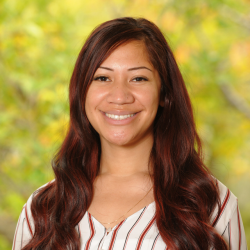 Emma Niu
Emma Niu (she/her/hers), a daughter of Tongan immigrants, is currently a fifth grade teacher in San Bruno, California, going on three years at her site. There, she advocates for multiculturalism, diversity, and inclusivity as the tech lead for the staff and teacher-lead of the Student Council. Emma received her bachelor's degree in Child Development with a minor in Music, Multiple Subject Teaching Credential with English Learner Authorization, and a Master's in Teaching from CSU Sacramento. She is a transfer student from the University of San Francisco's Doctor of Education Program where she studied International and Multicultural Education with a concentration in Racial Justice and Education.
Her passion for culturally relevant pedagogy is not only practiced in her teaching career, but is also utilized with her work in 'Epoki Fo'ou (New Vision), a program she co-leads within the California-Nevada Conference of the United Methodist Church, co-constructed of a Tongan community pipeline to academic and career networks that advocates and uplifts young Tongan scholars through career exploration, educational resources, and cultural sustaining experiences and opportunities. Outside of school and work, Emma loves being a momty for her nephew and two nieces, attending island reggae concerts, and watching rugby and football with the family.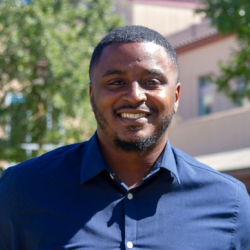 Byron Reaves
Byron Reaves currently serves as Counseling faculty in EOPS and the UMOJA Learning Community at Santa Rosa Junior College. Additionally, Byron is leader on several district wide equity efforts including co-chairing the Integrated Student Success Committee, leading Guided Pathways efforts, a senator and member of the executive committee on the Academic Senate.
Now and over the course of his 12-year career in higher education, Byron continues to demonstrate his commitment to serving students by leading and developing programs that center the experience of Black students and unapologetically using a student-centered, justice-centered approach to create more equitable outcomes for all students. He developed a passion for serving his community while growing up in New Haven/Hamden, Connecticut where his mother encouraged him to think critically about the importance of education and community. In two of Connecticut's most dangerous cities, it was his mother who led youth diversion and education programs that would ignite the spirit and drive of the two communities. Byron is interested in building equity-centered institutions and amending current academic and college-wide policies that have traditionally hindered the success and evolution of Black students, staff, administrators, and faculty. He is also interested in the inquiry, design, implementation and transformation of student-centered programs and services that removes institutional barriers for communities of color. Before becoming faculty in 2020, Byron served 5 years as the coordinator of SRJC's Peer Student Success Team, one of the programs selected for the 2018 California Chancellor's Higher Education Innovation Award.
Byron received his master's degree in Counseling with a concentration in College Student Personnel from the University of Bridgeport. He completed his undergraduate degree in Communications from Albertus Magnus College in New Haven, CT after spending time at Livingstone College in Salisbury, North Carolina. Byron has a deep love for his family, basketball, traveling, and finding dope spots for great food!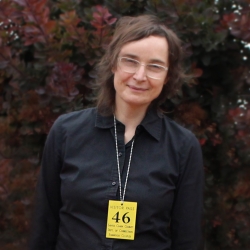 Isabel Reichert
Isabel Reichert is an Associate Professor in the Digital Arts and Interactive Design department at Ohlone College in Fremont, CA. Originally from Germany, Isabel began her career as an performance artist, seeing the world through a creative and poetic lens.  She received a bachelor's degree in Performance Art from the HdBK Saar in Germany and a Master's in New Genres from the San Francisco Art Institute. 
While working full time as a professor, Isabel has developed equity-focused curricula and programs tailored to support disproportionately impacted populations traditionally excluded from tech. She launched a jail education program for her college that teaches incarcerated students media and technology skills, and she further established systems to support formerly incarcerated students on her campus. 
Isabel's research includes Conceptual Art, Trauma Informed Pedagogy, Social Justice Game Design, and Human Computer Interaction.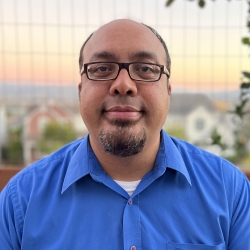 Rajinder Samra
Rajinder has more than twenty years of experience in California community colleges.  He is currently the Director of Research, Planning, and Institutional Effectiveness at Las Positas College (LPC).  In his role as Director, he has led many important initiatives at LPC, including collaboratively updating the College's mission, vision, and values statements, developing and implementing multiple educational master plans, and producing key portions of Institutional Self-Evaluation Reports (ISERs) that are used to reaffirm accreditation for the institution.
Rajinder received his Master of Science in Industrial/Organizational Psychology from San Jose State University, a Bachelor of Arts in Psychology from the University of California, Santa Cruz, and an Associate in Arts from Chabot College.  As a former community college student, Rajinder knows the importance that community colleges play in uplifting lives, especially of individuals from under-represented communities.  Rajinder is a life-long learner and continually seeks better and innovative ways of supporting student success.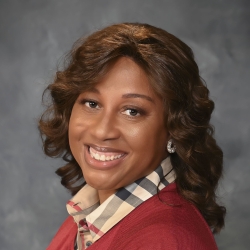 Lauren Sneed
Lauren Sneed (M.S. Marriage, Family and Child Counseling with specialization in School Counseling, San Francisco State University) strives to intercept the school to prison pipeline with interventions rooted in educational opportunities and student engagement. Ms. Sneed treads predominately white institutions as an African American woman employed at San Mateo County Office of Education in the position of School Counselor/Foster Youth Liaison. She works across government, education, and community organizations to provide students and families with academic, career and social/emotional services.
She is a social change agent that is interested in researching the intersectionality of career counseling, social justice and welcoming community programs. For over two decades, countless youth credit her with making right broken social contracts which have disproportionately impacted students of color. She is also a social justice and equity minded practitioner as a faculty lecturer in the SF State Department of Counseling Graduate Studies. She envisions greater impact at scale by honing her knowledge and capabilities through doctoral studies in the SF State Educational Leadership Doctoral Program beginning in Fall 2022.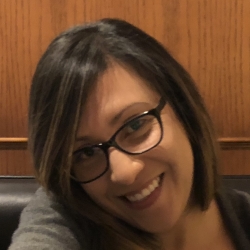 Ari Soler
Ari Soler is currently the Director of Financial Aid Service at Skyline College. She's built a career in higher education, working in departments like EOPS, Outreach, Transfer Center and Financial Aid. She attended undergraduate studies at Loma Linda University before earning an MA in Special Education from San Jose State University. As a first-generation college graduate, Ari a believer in the transformative power of education. Her experience in prior research fuel her scholarly interest in examining financial aid reform. She's especially interested in evaluating the student equity impact of the federal verification process. Ari is a proud mom of a mischievous 2-year old and in her (rare!) free time she can be found rooting on the San Francisco Giants or exploring new cuisine.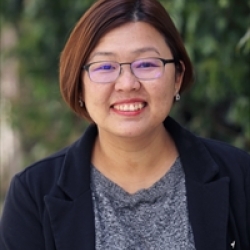 Chuhsi Tseng
Hailing from Taiwan, Chu Hsi Tseng has been working in the Early Childhood Education field for almost twenty years. As a second-generation mainlander in Taiwan, a woman with a lesbian identity, and a family member involved in caring for someone with a disability, she grew up with an understanding of multiculturalism and diversity. She has been passionate about bringing DEI to the school setting and providing an inclusive culture that allows all community members to feel respected and valued in the school.
She currently serves as the preschool director at Chinese American International School. Growth-oriented and well-versed in educational research, she is the embodiment of a life-long learner. She holds both bachelor's and master's degrees in the field, with a second master's degree in STEM Curriculum and Design. She passionately believes in child-centered pedagogy and adopts a play-based, inquiry-driven approach in Chinese immersion early years classrooms. Her research interest centers on Chinese immersion teaching and instruction and on teacher education. She would like to support early years teachers to build "the image of teacher," someone who has teachers' agency and is engaged in continual renewal and readjustment informed by reflection, experimentation, and practice. She believes that only when teachers have awareness of the importance of a growth mindset and engage themselves in the learning process will their students see the model and benefit from it.