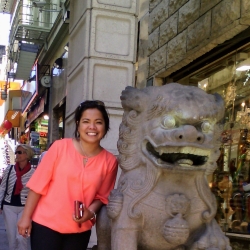 Nodelyn Abayan
Nodelyn Abayan is currently the Infant-Toddler Program Coordinator at Associated Students Early Childhood Education Center at San Francisco State University where she is also an adjunct professor, teaching courses in Child and Adolescent Development. She runs the program, from curriculum development, enrollment, and parent involvement to supervising teachers. She has been part of revising and changing the center's policies and procedures. She occasionally gives talks and speaks as a guest to some education classes in the university. Previously, Nodelyn was the Education Manager at the most extensive Early Head Start and Head Start Program in San Francisco, Wu Yee Children's Services. Before being an Education Manager, she was a Mentor Coach to some 25 teachers in the agency. She has a range of experiences training and supervising teachers and implementing programs and philosophy.
In May 2008, she completed my graduate degree in education at San Francisco State University. She wrote her field study on "The Role of Critical Stories in the Lives of Immigrant Early Childhood Educators." The main goal of that qualitative study was to learn about the sacred stories of suffering, hope, resilience, and perseverance among immigrant ECE teachers and give voice to these critical stories to deepen our understanding of our teaching selves and improve our teaching practice. She hopes that this doctoral program will help and support in continuing that desire to expand her knowledge, research, and studies of immigrant early childhood educators' lives and is very much interested as well in resurrecting the Anti Bias Curriculum for Preschool with all the recent anti-Asian hate crimes that are going on and plan in adding a Loving-Kindness twist to this curriculum.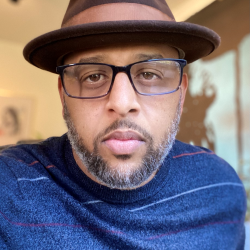 Brian Augsberger
Brian is currently the Coordinator for the Black Excellence Collective 10 x 10 Program, and a full-time EOPS Counselor at Chabot College. Brian has been involved in direct service and education for 15+ years. He began as a Social Worker for transitional age foster youth in Prince George's County Maryland. Upon Brian's return to the Bay Area, he engaged in work as an advocate and counselor for children affected by parental incarceration. Much of Brian's work since then has been focused on supporting education policy and initiatives that aim to increase the college readiness and persistence of Black college students. Brian earned his BA in Journalism from Howard University, and an MSW from the University of Maryland, Baltimore School of Social Work. Brian's research and advocacy interests include access to supportive community mental health for students, and sustainable agriculture and healthy food options in low-income communities. When he is not working, Brian enjoys gardening & cooking with his twins and spending time with his family.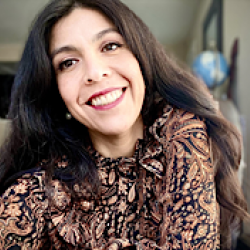 María José Bastias
María José is a South American, language learner, immigrant, educator, and worker with a unique perspective on education that values collaboration, peer learning, community building, women's empowerment, critical thinking, and labor rights. María José earned her bachelor's degree in teaching English in her country, Chile, and her master's degree in English with concentration in Teaching English to Speakers of Other Languages (TESOL) at San Francisco State University (SFSU). For the last 5 years she has been teaching English for Academic Preparation and Composition for Multilingual Speakers at SFSU. 
Her experience as an educator also involves community-based organizations and adult basic education (ABE). Since 2015, she has been teaching ESL to adult immigrants and refugees focusing on bilingual education, pragmatics, community participation and activism, workforce development, immigrants' rights, women's empowerment, health and data literacy, and communicative justice through the lens of ESL. As the current ESL Project Manager at Mujeres Unidas y Activas, a nonprofit organization in San Francisco Bay Area, she coordinates and oversees vocational ESL training for community members and the organization's personnel as well as the volunteer tutoring component of the program.
During the 2020 -2021 pandemic she adapted the ESL and Job Readiness programs to a virtual context by offering 7 synchronous courses to more than 150 low-income immigrant women in San Francisco, Oakland, Hayward, and the Central Valley. Her work supporting essential workers with language and knowledge of labor rights during the COVID-19 pandemic was featured in the New York Times "Now the President and Frontline Workers Have Something in Common: The difference is not all frontline workers can protect themselves on the job. The coronavirus race gap explained." Maria Jose's goal and research interests are connected to creating and providing opportunities so immigrant Latina women students and their families can overcome discriminatory barriers and policies at a local, state, and federal level.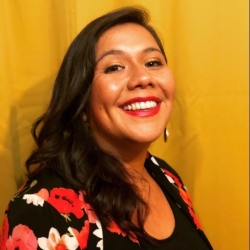 Erika Vivianna Céspedes
Erika is a first-generation Colombian artist, educator, and organizer working at the intersections of popular education, youth organizing, and arts, culture, and storytelling. As the Network Director for Youth Organize! California, Erika helps lead power-building strategies for a statewide network of grassroots organizations committed to practicing transformative youth organizing with Black, Indigenous, undocumented, systems-impacted, and LGBTIA+ membership. Her statewide work is rooted in the belief that defunding the pol(ice) is a critical step towards abolition and investing directly in community-led priorities.
Erika has spent the last 14 years committed to connecting, learning from, and deeply loving youth of color within a variety of non-profit organizational leadership roles. Her passion for teaching and community building has taken her to preschools, community centers, school sites, rallies, and universities throughout the Bay Area.
During her experiences as a long-time community college student, Erika was mentored by an incredible community of queer, feminist, and intersectional activists, educators, and cultural workers. She is indebted to that support for helping her complete her Master of Arts in Ethnic Studies from the College of Ethnic Studies at San Francisco State University. In 2016, Erika joined Metro College Success Program as an adjunct lecturer where she helps support first-generation, low-income and/or historically underrepresented students in their success at San Francisco State University. Erika strives to be rooted in radical love, joy, and cultural dignity within her teaching practice in the Department of Race and Resistance Studies at SFSU.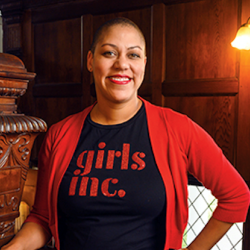 Christine Chilcott
Christine is the Chief Executive Officer for Girls Inc. of the Island City (GIIC) and been in the role since January 2015. Prior to that, she was Director of Girls Inc. Program Services for three and half years. During her time at Girls Inc. of the Island City she has increased program attendance by 67% and created outreach programs in 16 different Alameda schools.
Previously, Christine ran after school programs in the West Contra Costa Unified School district. During this time, she found her passion in creating programs that helped reinforce school day learning through games and activities. This interest led her to pursue her Master's in Education which was a perfect compliment to her Bachelor's in Recreation and Leisure Studies, both from San Francisco State University.
In her role at GIIC, Christine has worked closely with the Alameda Unified School District to create programs to support girls through the district. She also works with other community organizations to create supportive programs for all children. Christine's current interests are how to best build beneficial and sustainable relationships between community organizations, schools, and districts to best support the whole child. She is thrilled to join San Francisco State's EdD program to further her studies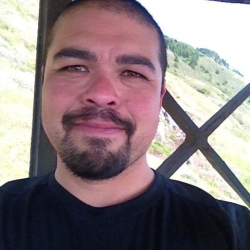 John Cristobal
John Cristobal has over fifteen years of experience teaching Math in the community college system. Cristobal started his educational career at Monterey Peninsula College, then transferred to UC Berkeley to earn a BA in Pure Mathematics. After earning his MA in Applied Mathematics from UCLA, Cristobal was able to immediately transition into a role as an adjunct Math Instructor at his home school MPC with the support of his mentor Lisa Chovick. Cristobal continued his work as an adjunct instructor at both MPC and Cabrillo College and is currently a tenured faculty member at MPC. At MPC, Cristobal has supported and co-coordinated summer bridge and first year experience programs increasing the success and retention of first generation minoritized students.
Cristobal's research interests include equitable grading, assessment, and advancement practices, all in hopes of creating change in the ways students learn and advance in Math and STEM pathways.
Cristobal takes great pride in serving students in the same community college that had such a major influence on his life and serving the community of students from his hometown of Seaside.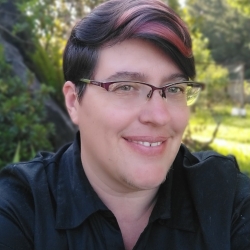 Yvonne Doble
Yvonne Doble is the Director of Field Education for the Social Work Department at Humboldt State University (HSU),  responsible for developing community partnerships to support undergraduate and graduate social work students for their required field practicum experiences.  Over the past decade, Yvonne's teaching has included field education, community projects, and special topics in community accountability, social justice, and the development of effective teams.  Yvonne sees the work of supporting community supervisors and students to design intentional learning opportunities as key in making long term justice-oriented shifts in community practice. As a leader in the CA Field Directors Consortium, Yvonne advocates and coordinates statewide policy development for Field Education practice. 
Having grown up in Humboldt County,  Yvonne is grounded in a pervasive sense of hope and possibility that rural spaces can be sites for innovative, collaborative, and scalable change.  Yvonne graduated from Oberlin College with a self-designed BA in Community-Based Education. Yvonne spent almost a decade providing training and support to volunteers serving children in the child welfare system, prior to receiving their MSW from Humboldt State with an emphasis in decolonizing practice with rural and Indigenous communities.  Yvonne's professional interests are practical structures for engaging in solidarity and accountability, implementing community-responsive models for engagement, and supporting those with lived experience in systems to be part of policy and systems change. Yvonne's research goals center around the question of how field-based professional preparation can develop future practitioners grounded in and prepared for relational and transformational systems change, and how understanding of tribal sovereignty is key for educational policy and social justice practice.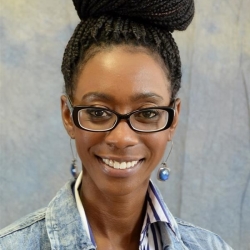 Kesha Emmendorfer
As of the 2021-2022 academic year, Kesha Emmendorfer is entering her second year serving as a high school principal and ninth year in high school administration.
Her professional focus has been on building sustainable systems to help improve achievement and access for all students.  Currently, she is wondering about equity "traps" in schools and organizations and how they act as barriers to longstanding change. 
Primarily raised in Michigan, Kesha earned her undergraduate degree in Secondary Education and Master's in Educational Leadership from Wayne State University in Detroit. Kesha is a proud mother of three children, 24, 18, and 3.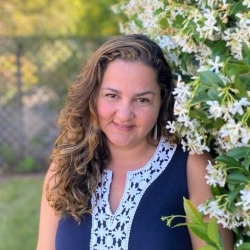 Ericka Omena Erickson
The passion for social justice and gender equity has been driving Ericka's career and led her to a position as the Policy and Program Officer for Early Care and Education at the Low Income Investment Fund. Her background includes national and international experience at various organizations in different roles, including program management, organizational development, and community organizing.
Ericka is Brazilian-American and has a Master's degree in Public Administration from Fundação Getúlio Vargas, located in Rio de Janeiro, Brazil. She has been serving for many years as a lecturer at universities such as San Francisco State and on non-profits boards and public commissions, including the Marin Women's Commission, the Marin County Planning Commission, City of Novato's Parks, Recreation & Community Services Commission, the Marin Women's Political Action Committee, and the Debates Insubmissos Journal. 
You can find Ericka on Linked In @erickaoe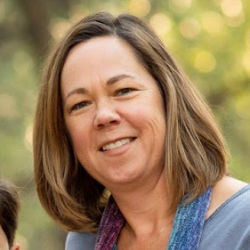 Erin Fender
Erin Fender is the Director of Curriculum and Instruction for the Healdsburg Unified School District in Sonoma County where she leads the development, implementation, coordination, evaluation and assessment of the educational programs for pre-K through grade 12. Erin coordinates professional development for Principals, Teachers and Instructional Assistants.  She also collaborates with members of the community, post-secondary institutions, City and State government officials, and families to develop and ensure partnerships that support all aspects of the educational program.
Ms. Fender has a Masters of Arts in Educational Leadership and an Administrative Services Credential from Sonoma State University, a Biological and Health Sciences teaching credential with a Crosscultural, Language, and Academic Development Certificate from Chico State and a Bachelor of Sciences in Environmental, Population and Organismic Biology from the University of Colorado Boulder. Prior to working for Healdsburg Unified School District, she was a Coordinator of Public Programs for the College and Career Support Network at the University of California Berkeley.  Erin has served as a high school administrator, science and alternative education teacher. 
Erin's research interests include investigating how Project-Based Learning can support all students, particularly traditionally underserved students, to close the opportunity gap and how PBL could be institutionalized to become a systemic element of school for all students.  Erin enjoys spending time traveling and playing outside with her wife and son.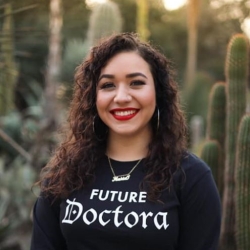 Maria G. Gutierrez
Maria G. Gutierrez currently serves as the Dream Center Counselor at Chabot College where she supports, encourages and guides undocumented students through their academic journey and challenges they may face in and outside class with empathy and unconditional positive regard. Maria's purpose is to provide an equitable learning environment and safe space in each counseling session while celebrating the student through culturally relevant pedagogy and transformational narrative approaches. 
Over the course of her career, Maria has been a part of the planning and launching of both El Centro (HSI Title V) and the Dream Center at Chabot College and has worked with the Puente Program, Strive for College and Disabled Students Programs and Services. Through the EdD program, she hopes to research how DACA can impact college choice for undocumented undergraduate students. 
Maria holds an Associate in Arts for Transfer in Psychology from Chabot College, a Bachelor of Arts in Psychology from San Jose State University, and a Master of Science in Counseling with a specialization in College.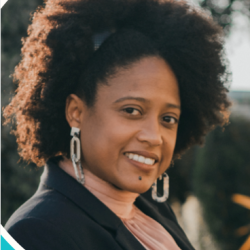 Cynthia Jerez
Born in the Dominican Republic, I moved to Boston at a young age, where I completed high school, college, and graduate studies. I relocated to the West Cost in 2019 and I am honored to join the SF State EdD Program.
My passion for working in education is centered in creating alongside the community to build a vision where actions amplify the voices of our stakeholders and fuel the hope of being spaces of healing and liberation. This work is not just a job but a commitment to be a courageous community member.
Entering my 10th year in services, I am honored to continue my educational journey, and learn in San Francisco, the community I currently serve as the Executive Director of a TK-8. In m years of experience, I have centered not only jo7 but removing barriers to increase student voice across education.
My research priorities include EL programing, schooling post-COVID-19, and anti-racist development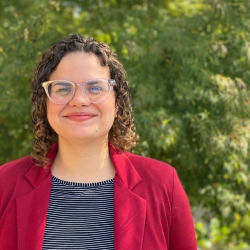 Adriana Lobovits
Adriana Lopez Lobovits currently serves as the Board Liaison and Special Assistant to the President at California College of the Arts (CCA) where she is a strategic partner to the president and board of trustees on institutional initiatives in order to ensure excellence at all levels of the college. She has served on the college's Diversity, Equity, Inclusion, and Belonging (DEIB) Task Force for over five years and is supporting CCA's development of a DEIB framework. Adriana has worked in the field of arts education for over 11 years at institutions such as Tisch School of the Arts in New York City and the Mexican Museum in San Francisco–always fighting for educational justice in all that she does.
Adriana has a master's degree in Individualized Study from New York University, focused on Latin American visual culture, and a bachelor's degree in Political Science, Spanish, and Latin American and Caribbean Studies from the University of Florida. As an Ed.D. student, Adriana will explore ways in which equity can be operationalized in higher education to foster a sense of belonging and improve student success and retention, particularly for BIPOC students. She is interested in critically assessing the ways in which Chief Diversity Officer positions and offices/centers for diversity are integrated into the daily operations of colleges and universities, and how these frameworks are equipped for success. She hopes to apply her knowledge and experience in arts education to shed new light on these issues.
Adriana is a first-generation Venezuelan-American living in Oakland with her husband, rambunctious toddler, and even more rambunctious dog. She is extremely proud of her Venezuelan culture and loves having her friends and family over for arepas.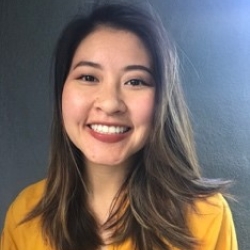 Allison Mok
Allison Mok is a high school teacher at East Palo Alto Academy in East Palo Alto. Her background is in math education, and she has been a middle school and high school educator for over eight years in Bay Area schools, and in Hong Kong, where she served in Summerbridge Hong Kong. She also is a Hollyhock Fellow from the Hollyhock Program at Stanford. Additionally, she collaborated with Stanford's SCALE program in presenting at AERA for what conditions fosters true partnership between university researchers and teacher partners.
Allison has a strong desire in coaching other math educators to critically examine their practices from an anti-racist lens. If we'd like our students to thrive, teachers need to be supported in thriving as well. Allison holds a MA in Math Education from San Francisco State University, as well as a teaching credential and B.S. in Mathematics from UC Irvine.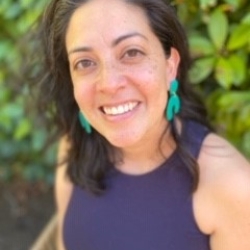 Wendy Muro
Wendolyn Muro is currently an elementary school counselor in Contra Costa County.  For the last six years, Wendolyn has explored mental health as both a provider and coordinator for school based mental health services.  Prior to her work in schools, she focused her clinical skills in trauma and attachment work with children and families.
Wendolyn earned her bachelors from UCLA and shortly after she attended Columbia University School of Social Work. She holds her LSCW with a PPSC.
Her research interest is to identify the existing mental health support systems in schools and their accessibility to all students.  Further, she would like to engage school providers through a collaborative and reflective lens as they bring their authentic self into the classroom.  Wendolyn's hope is to bring more intentional awareness to mental health where both staff and students can identify themselves through their strengths.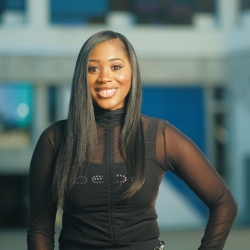 Sha`Nice Robinson
Sha`Nice is a Richmond native that has worked as a high school teacher at the West Contra Costa Unified school district for over five years. Shanice is a San Francisco State University Alumni, earning her Bachelors and Masters in Africana Studies, Ethnics Studies and Social Justice and Equity in Education. Teaching in underperforming high schools in the East Bay, sparked her passion for social justice and her research interest to dismantle the school-to prison pipeline for students of color.
Sha`Nice humbly served as the Undergraduate Admissions and Recruitment coordinator for Enrollment Management and Student Affairs at San Francisco State University for 2.5 years. Shanice dedicated her time at SF- State to improving the prospective student experience when they visit campus. She achieved this goal by re-vamping the office brand and how the institution markets and promotes San Francisco State to prospective students.
Sha`Nice is the founder of the Soul of SF State social justice organization. She founded the organization to carry out her service and commitment to equity and social justice with the goal to represent, reflect, give voice to, and honor the Black community here on campus as well as the Bay Area. Sha`Nice also served as a member of the Academic Senate for various educational sub-committees.
Sha`Nice is excited to join UC Berkeley as Assistant Director of Graduate Student Affairs. She is a single mother of two boys, De`Onnie and Byron, and they attend Golden State Warriors basketball games regularly and travel three times a year for their birthdays.  Most recently, Shanice got engaged to her longtime childhood friend now fiancé Joe Blacknell and plan to have a destination wedding.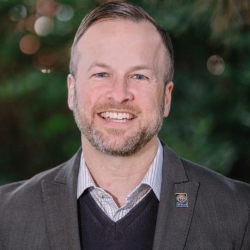 David Rourke
I currently serve as SF State's Director of Residential Life.  Residential Life provides a co-curriculum for students living in on-campus housing where we support our students from a foundation of social justice, equity, and inclusion to ensure all of our 4600 students feel welcome and build connections to the campus.
My education began in St. Francis, WI (a suburb of Milwaukee) and provided a pathway to the University of Wisconsin – Madison, where I graduated with a baccalaureate of science degree in psychology and social welfare.  After working for the university for a year, I moved to New York City and completed an MA in Education  focusing on administration, leadership, and technology.  After graduate school I headed West and settled both in San Francisco and at SF State where I have served for the past 24 years.  During the pandemic, I also became certified as a California Residential Manager.
As a first-generation college student, my research interests are broad, but also center around those elements of my own journey:  student worthiness and belonging; financial literacy; student basic needs; and identity development.  I am interested in exploring the effectiveness of identity-based learning communities as well as how financial literacy programs impact first-generation student's choice of major.
When I am not focused on students, I am an avid runner and enjoy spending time with my husband, Michael, and 13.5 year-old Labrador, Berkeley.
Tracey Runeare
Tracey Runeare is the principal of Harbor High School in Santa Cruz, CA. Tracey is also a member of the Better Schools Better Leaders (BSBL) Women's Mastermind group. Her 26 years as a secondary educator have provided her the drive to insist that public schools, like the one she leads, should be institutions that embody and establish social justice. Equity of access to curricular and extracurricular programs and economic equity for all learners are the driving force at the center of her work as an educator and school administrator. The critical issues of inequities in student access to advanced programs in secondary education, financial barriers that exist in public schools, and social inequities created by school policies and practices are her focus.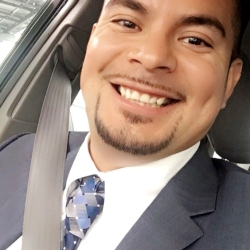 Alberto Santellan
Alberto Santellan is a counselor and coordinator of the Student Success Program (SSP) at Skyline College.  SSP supports students to persevere through academic probation and return to good standing by prioritizing efforts to help students gain a sense of belonging and a sense of "home" at Skyline College.  His research interests include ways community colleges address equity for students on academic probation and the role of student voice in reform efforts.
Alberto began working as a counselor at Skyline College in 2013 and includes a range of experiences that include Puente, Hermanos,  Society & Education Meta Major Counselor internship supervisor, and College Success Instructor. Through his work, he observed the need to provide equitable services for students on academic probation to truly make a change in the opportunity gap and make learning accessible for all students.
Alberto is a proud bay area native and a product of the South San Francisco Unified School District.  He attended Skyline College where he earned his Associate of Arts and San Jose State University where he earned his Bachelors of Arts in Psychology and Masters of Arts in Counselor Education.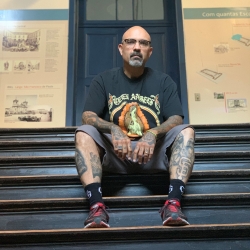 John Ulloa
John Ulloa is Professor of History and Cultural Anthropology at Skyline College in San Bruno, CA. He holds a BA in History with a Latin American concentration, and a double Master's in History and Cultura Anthropology with visual emphasis. A lowrider and academic, John uses lowriding as pedagogical practice as an entry point to discuss issues affecting communities of color and create calls to action. He speaks regularly on lowriding, and he has conducted workshops in Sao Paulo, Brazil.
John is a major voice in the forthcoming documentary "The Great American Lowrider Tradition," and he has been a guest on numerous podcasts, including "Anthro for the Homies." His research examines the global diffusion of lowriding culture from the Mexican-American barrios to various countries outside of the United States including Japan, Brazil, Australia, New Zealand, Guam, Saudi Arabia, France, Germany, Russia, Sweden, Denmark, and Thailand. He is an active member of the San Francisco Bay Area lowriding community, and he has owned six lowriders, his current work in progress is a 1973 Buick Riviera.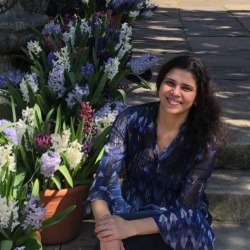 Pia Walawalkar
Sanjyot Pia Walawalkar is an associate professor and Equity and Outreach Librarian at Skyline College. She holds master's degrees in English Literature from University of Mumbai, Germanic Languages and Literatures from Ohio State University, and Library and Information Science from Kent State University.
At Skyline College, Pia teaches critical information literacy and research methods; plans and implements social-justice centered events; and supports faculty to create zero-textbook-cost courses and equity-focused, culturally responsive curriculum. Her research interests include library and instruction faculty collaboration to teach critical information literacy and global citizenship; decolonization and globalization of curriculum and teaching practices; and inclusion and diversity practices that go beneath the surface of the cultural iceberg at educational institutions.
Having been fortunate to have lived and studied in three continents and traveled to different parts of the globe, she has an eclectic approach to life and continually seeks to learn and embrace elements from diverse cultures, philosophies and ways of life. In her free time, she likes to hike, read, improve her language skills, watch independent and foreign cinema, tend to her plants, and spend quality time with her loved ones.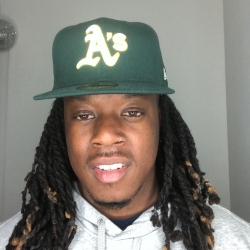 Shamawn Wright
Shamawn Wright is the Founder/CEO of the nonprofit organization Bridge Builders to the New Generation – a nonprofit organization that focuses on student outreach and community engagement. Shamawn is an East Oakland native that is passionate about providing resources to underrepresented minority youth and inspiring them to play active roles in their futures beyond what society tells them is possible. He began his career as an educator in our K – 12 educational system and soon realized that there was a gap in our educational system to provide more support to students labeled "difficult" or "troubled". Coming from a similar background and habits growing up, Shamawn's organization was created to focus on connecting with these students through mentorships, social emotional support, academic checks, and both career and college readiness resources from a relatable lens.
As a former collegiate athlete, he also works to deconstruct the problematic hierarchy of collegiate sports through his research on the Black male athlete, which is centered on black male identity development, inferiority complex development, which will include cultural relevance pedagogy, critical race theory, cultural capital, and psychological theories (Development Theories).
Shamawn holds both a bachelor's degree in Sociology from the University of California, Davis and a master's degree in Higher Education and Student Affairs from the University of San Francisco.